The achievements of para-athletes at Asian Para Games in China have not only marked a historic moment for Indian sports but have also set a benchmark for aspiring athletes across the nation, said Shri Hardeep Singh Puri, Minister of Petroleum & Natural Gas and Housing & Urban Affairs here today.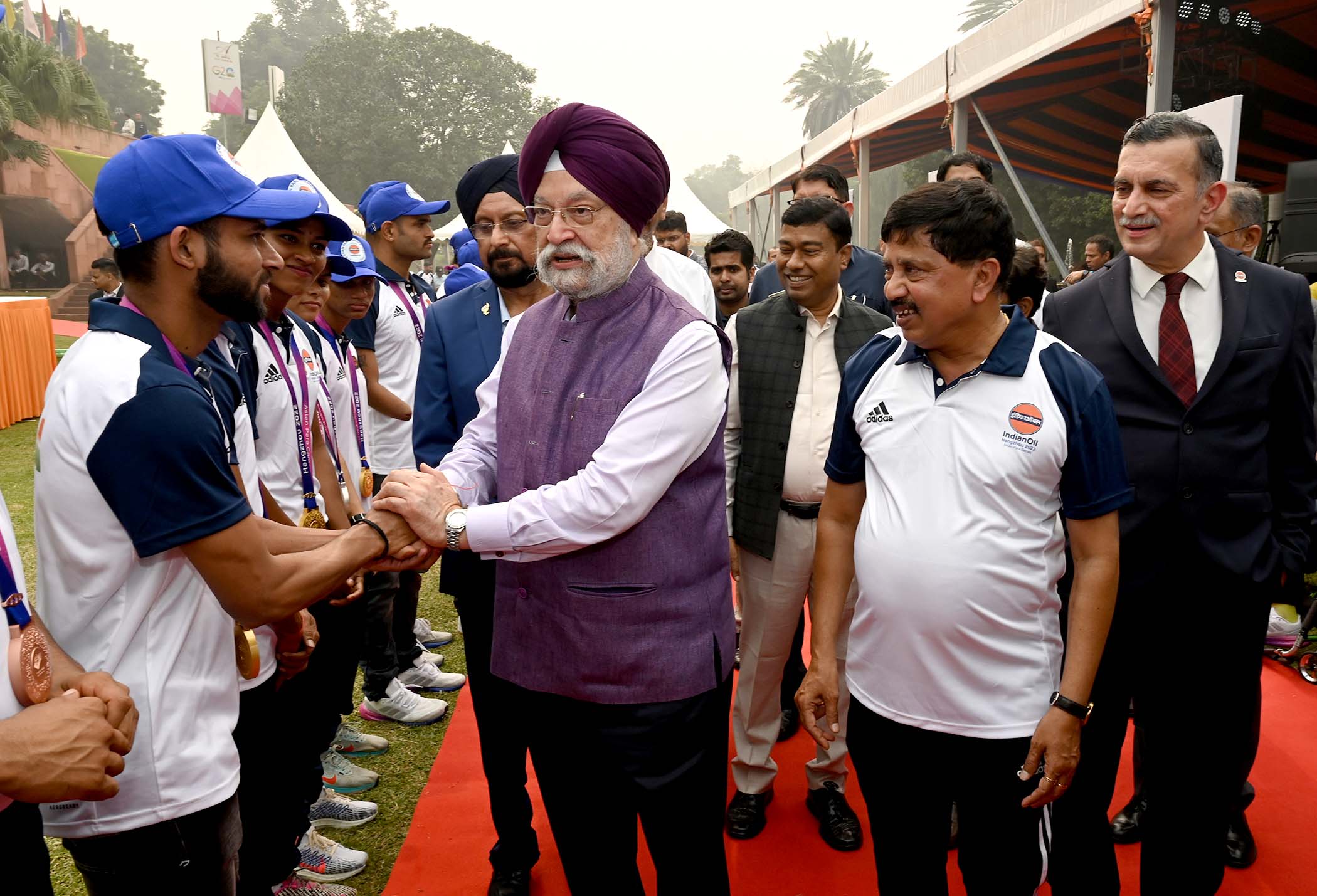 The Minister was speaking at an event organised by IndianOil to honour the monumental achievements of Indian para-athletes, at the 4th Asian Para Games in Hangzhou, China.
Shri Rameswar Teli, Minister for Petroleum & Natural Gas and Labour & Employment; Shri Shrikant Madhav Vaidya, Chairman, IndianOil, Ms Deepa Malik, President, Paralympic Committee of India (PCI); Shri Gursharan Singh, Secretary General, PCI and Shri Avinash Rai Khanna, Patron-in-Chief, PCI also attended the event.
Noting the performance of Indian para-athletes in the recent Asian Para Games, Shri Hardeep Singh Puri lauded their indomitable spirit, resilience, and unparalleled determination. He also mentioned about some extraordinary athletes who, he said, with their prowess, have become the luminaries of Indian para-sports.
He talked about Sheetal Devi, who is the world's first female armless archer. Shooting with her feet, this prodigious 16-year-old clinched gold in the compound individual open event, paired up with Rakesh Kumar for another gold in the compound mixed team event and secured a silver in the women's compound doubles with Sarita.
Alluding to the performance of Ankur Verma at Asian Para Games, the Minister said that his mastery was evident as he clinched gold in both the men's T11 1500m and 5000m races. He became the first Indian to win two gold medals in a single edition of the Asian Para Games, Shri Puri added.
The Minister also lauded the performance of Sundar Singh Gurjar and Sumit Antil at the recent Asian Para Games.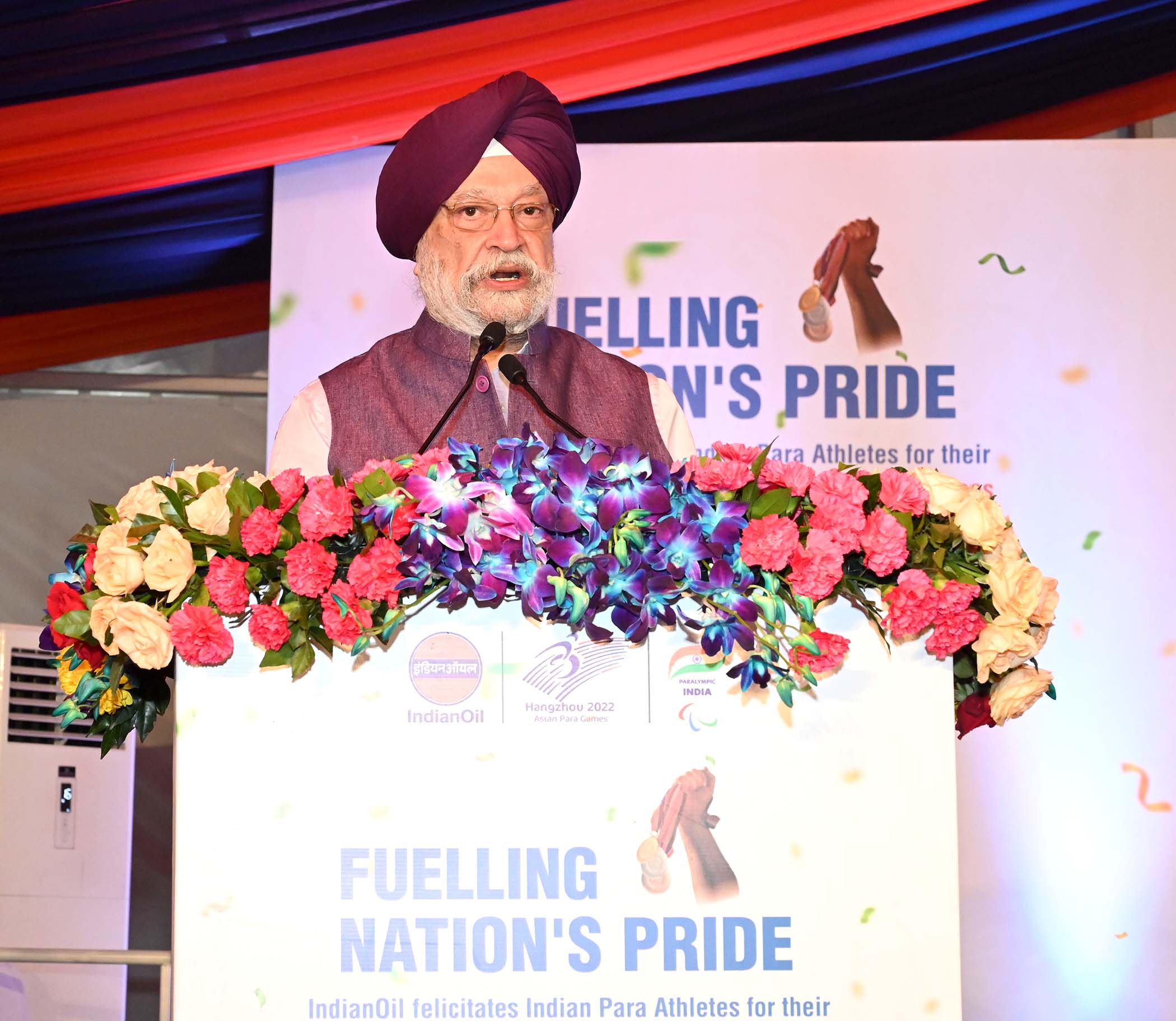 Complimenting the IndianOil for standing up with para-athletes in India, the Minister for Petroleum & Natural Gas said that the Oil Sector PSU has played an invaluable role in their journeys to success. In line with Prime Minister's vision to create a nurturing environment for sports in our country, he said, that the Government of India will keep extending full support to the sports and athletes/sportspersons in the country.
Indian performance at 4th Asian Para Games in Hangzhou, China:
The India contingent marked an unparalleled success at the 4th Asian Para Games rounding off the event with a stellar medal haul of 111 – 29 golds, 31 silvers, and 51 bronzes. This magnificent tally eclipses the previous record of 72 medals clinched in 2018. With this, India firmly established itself at the fifth position on the overall leaderboard of the 4th Asian Para Games.
The phenomenal trajectory from securing a modest three gold medals in the 2014 edition of the games to a commendable 29 golds this year narrates the saga of dedication, hard work, and the relentless spirit of our para-athletes. India showcased its formidable representation this year by dispatching a contingent of 303 athletes, which included 191 men and 112 women. This marked the country's most substantial ever delegation to this continental event, seeing a notable rise from the 190 athletes in 2018.
India's women athletes, making up 37% of our representation in Hangzhou, stood out by securing 40 medals, accounting for 36% of the total medal count. Additionally, our athletes created history by establishing three world records, 13 Asian records, and 15 Para Asian Games records.