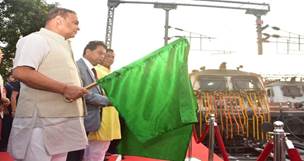 Prime Minister Shri Narendra Modi will address the finale event of Meri Maati Mera Desh campaign at Vijay Chowk/Kartavya Path on 31st October 2023. This event will mark the culmination of Meri Maati Mera Desh campaign's Amrit Kalash Yatra in which Amrit Kalash Yatris from 7000 blocks of 766 districts will be present. It will also mark the wrap of the two years long campaign of Azadi Ka Amrit Mahotsav which began on 12th March 2021 to celebrate the 75 years of India's independence. Azadi Ka Amrit Mahotsav has since witnessed more than two lakh programmes organized throughout the country with enthusiastic public participation.
This event will also witness the launch of autonomous body Mera Yuva Bharat (MY Bharat) which will help in setting the focus of the Government on Youth Led development and to make the Youth "active drivers" of development. The aim of this autonomous body is to inspire youth to become community change agents and nation builders allowing them to act as the Yuva Setu between the Government and the citizens.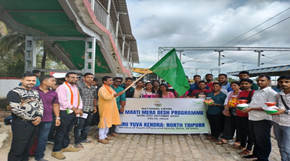 For the finale event of Meri Maati Mera Desh, more than 20 thousand Amrit Kalash Yatris from 36 States and Union Territories are reaching the national capital on 29th October through various modes of transport like specially dedicated trains, buses, and local transport to take part in a two-day programme at Kartavya Path/Vijay Chowk on 30th and 31st October. These Amrit Kalash Yatris will stay at two camps- Dhanchiri camp in Gurgaon, and Radha Soami Satsang Beas Camp in Delhi.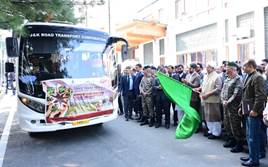 On 30th October, all the States represented by their respective blocks and Urban Local bodies will put the Mitti from their Kalash in one giant Amrit Kalash reflecting the spirit of Ek Bharat Shreshtha Bharat. Popular art forms from each state will be displayed during the ceremony of pouring Mitti in the Amrit Kalash. The programme is slated to begin at 10:30 am and will go on till late evening.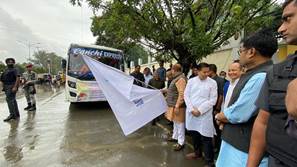 On October 31st, there will be a public programme open for all from 12 pm to 2 pm with vibrant cultural performances. At 4 pm, Prime Minister Shri Narendra Modi will address the Amrit Kalash Yatris and the nation, remembering the brave hearts who laid down their lives for India to breathe free and prosper.
Meri Maati Mera Desh campaign
As the culminating campaign of two-year long Azadi Ka Amrit Mahotsav, "Meri Maati Mera Desh- Maati Ko Naman Veeron ka Vandan" is the unified celebration of India's soil and valour. It has witnessed tremendous jan bhagidari with more than 7000 blocks from 766 districts of the country. More than 8500 kalash(s) will be reaching Delhi on 29th October for the finale event. Meri Maati Mera Desh campaign was celebrated in two phases where in first phase it included Shilaphalakams for freedom fighters and security forces, initiatives like Panch Pran Pledge, Vasudha Vandan, and Veeron ka Vandan, honoring the sacrifices of Bravehearts.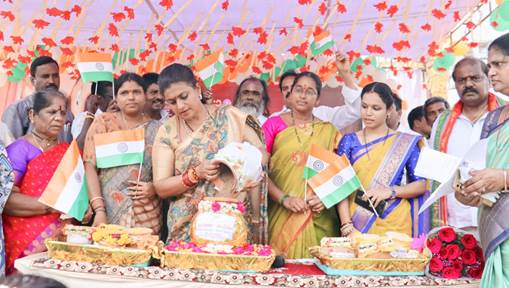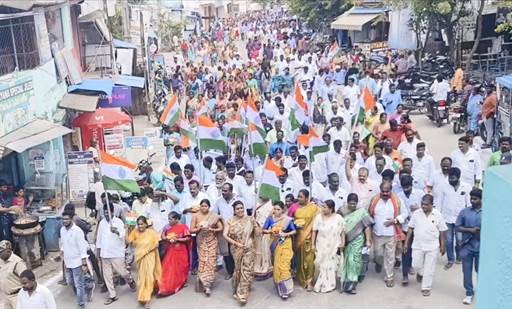 In its first phase, the campaign became a massive success, with over 2.33 lakh Shilaphalakams built in 36 States/UTs, nearly 4 crore Panch Pran pledge selfies uploaded, and 2 Lakh+ Veeron ka Vandan programs nationwide. Additionally, more than 2.36 crore indigenous saplings have been planted, and 2.63 lakh Amrit Vatikas created under the Vasudha Vandan theme.
In the second phase of Meri Maati Mera Desh, Amrit Kalash Yatras were planned to touch every household of the country. Mitti and rice grains were collected from over 6 lakh villages in rural areas and from wards in urban areas across India. Collected mitti from each village was mixed at block level and then brought to the state capital, and with a ceremonial send off, sent to National Capital with thousands of Amrit Kalash Yatris.