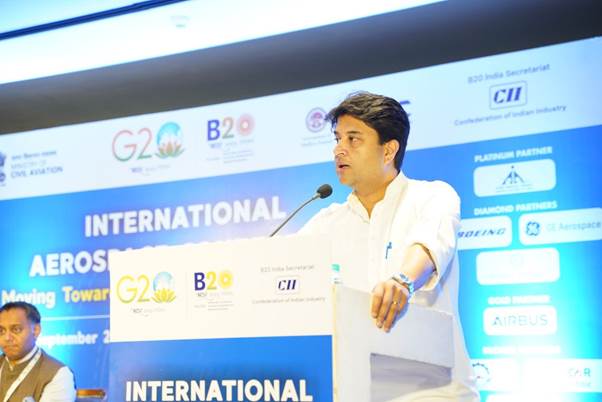 Shri Jyotiraditya M Scindia, Union Minister for Civil Aviation & Steel today inaugurated the 'International Aerospace Conference: Moving Towards Inclusive Global Value Chains'. It is being jointly organised by the Ministry of Civil Aviation and Confederation of Indian Industry (CII) on 1st and 2nd September 2023 in Gwalior, Madhya Pradesh.
The International Aerospace Conference is a G20 initiative in the aerospace sector under G20 and B20 priority, focusing on developing inclusive global value chains for Global trade and Investment and aims to promote and strengthen trade and investment among the G20 countries.
In his inaugural address, Shri Jyotiraditya M Scindia said that now it is time for global aerospace industry players to supplant themselves to India and there are multiple reasons for it: A) Development of Infrastructure: Indian civil aviation sector had only 74 airports nine years ago; now it has moved to 148 airports including heliports and water aerodromes. And the government is committed to take this number upwards of two hundred in coming three to five years; B) Availability of aircrafts: Earlier there were 400 planes in 2014 now this number has reached almost 700 and nearly 1000 more on order; C) Ecosystem Development: The disinvestment of Air India has brought about a transformation in civil aviation industry in the country, not only for passengers, not only airports, but also for MROs, for manufacturing sector, and for cargo. The huge orders of aircraft placed by Air India and Indigo and the emergence of new players like Akasha is another example of the changes that are taking place in Indian civil aviation industry; D) Thrust on Regional Connectivity: UDAN has given birth to 4 new regional airlines in the country. The hub and connectivity network we have been talking about for decades is a reality in India today.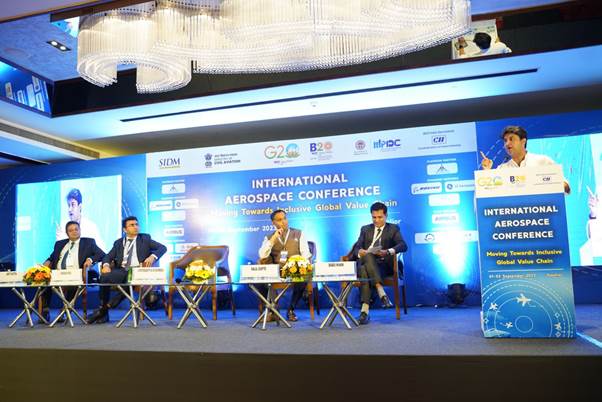 Talking about the aviation infrastructure in the city of Gwalior, Shri Scindia assured that the development of the new integrated domestic terminal of the Gwalior Airport will be completed within shortest record-breaking time of fifteen month. He also assured greater and consistent support from the government for the holistic growth of aerospace manufacturing in India.
During interaction with the dignitaries, the Minister emphasized that under the leadership of Prime Minister Shri Narendra Modi, we believe in being monumental in our approach rather than being incremental and this stands true for the civil aviation sector as well, where liberalized drone policy & Production Linked Incentive Scheme for drone and its components, implementation of DigiYatra, New MRO Guidelines, and helicopters for last mile connectivity – have made the sector more accessible for its customers.
In the conference, panels of luminaries will be discussing a range of issues pertaining to global value chains and how to make them all-inclusive. The conference involves five sessions covering the following issues:
Spawning Global Value Chains in Design & Robust Aerospace Manufacturing: Importance of MSMEs
Integrated Global MRO Services
Women in Aviation: Fireside chat
Advanced Technologies in Aerospace & Air Mobility: Changing Skill Sets
Building Scale in Aerospace Manufacturing
In the last couple of decades, there has been a mammoth increase in Global Value Chains which has transformed the global economy. Over these years, GVCs have worked as an engine of growth and driven economic growth, technological innovation, and job creation. This event will further contribute to preparing India towards matching the challenges that the global supply chain offers.