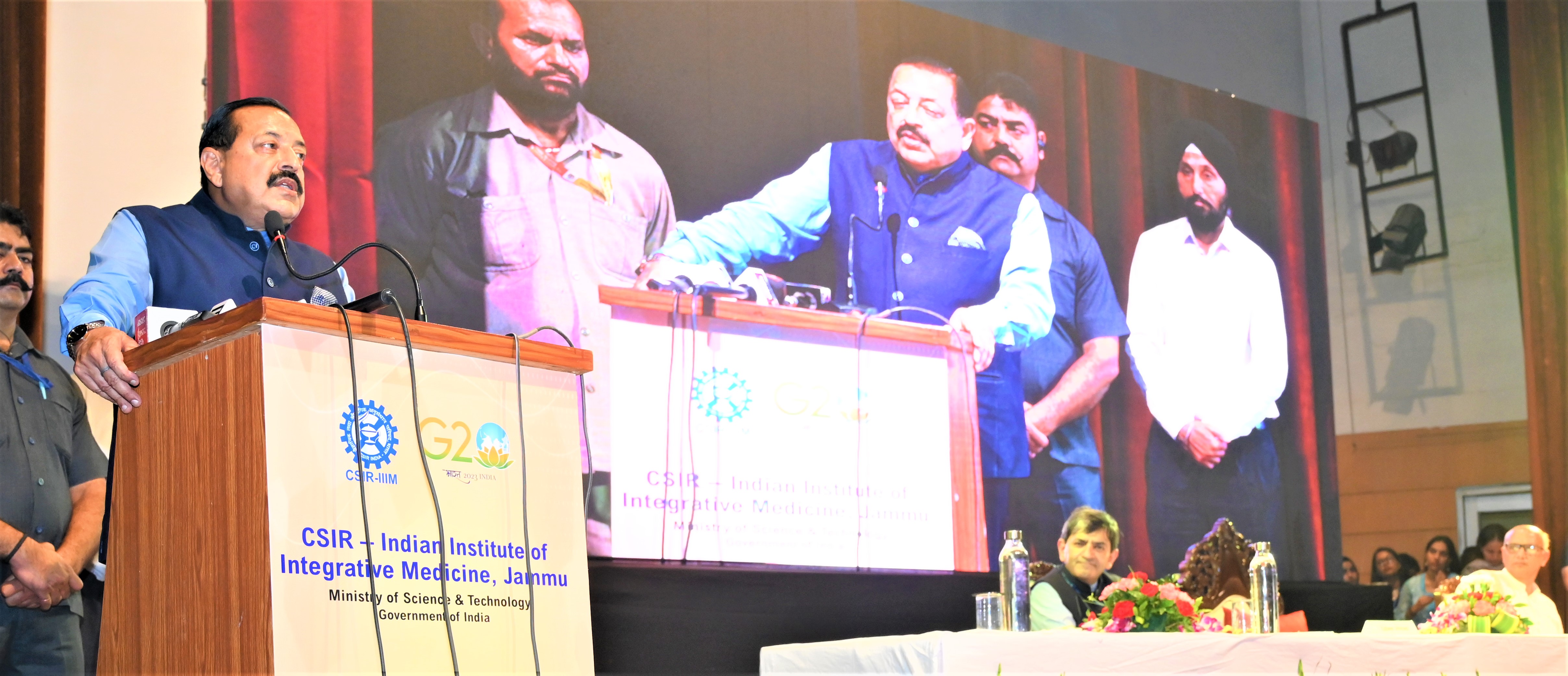 Union Minister of State (Independent Charge) Science & Technology; MoS PMO, Personnel, Public Grievances, Pensions, Atomic Energy and Space, Dr Jitendra Singh today said, Jammu & Kashmir requires a StartUp fillip to change "Sarkari Naukri" mindset.
In the midst of a Start-up revolution across India, government job mind-set of JK youth could prove to be an impediment , said Dr. Jitendra Singh while inaugurating 'Youth Conclave' organized by CSIR-IIIM Jammu.
Addressing the Youth Conclave, Dr Jitendra Singh said, this is the best times happening in India as the successful launch of Chandrayaan-3 and Aditya has sparked global aspirations among Indian students. With the unlocking of space technology by PM Narendra Modi, the doors of Sriharikota are open for public now to watch satellite/rocket launch which was a dream earlier, some ten thousand watched the Aditya-L1 launch and 1000 media persons were present during the launch of Chandrayaan-3, Dr. Jitendra Singh added.
Dr. Jitendra Singh said, India's Youth today is no longer the prisoner of aspiration as this generation has aspirations in abundance & avenues in tons, with numerous opportunities knocking at their doors in the form of Start-ups which are now the engines of economic growth.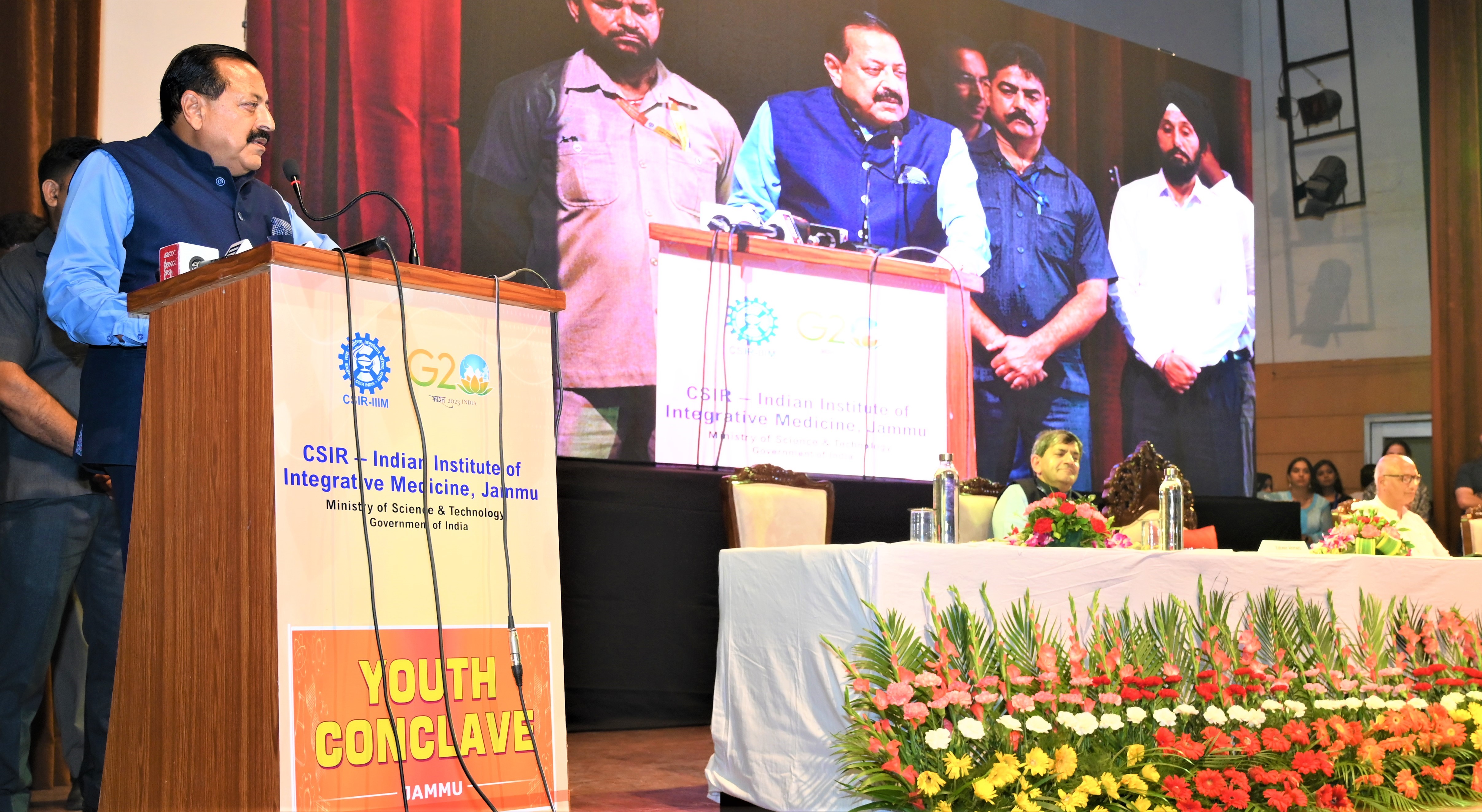 Praising NEP-2020 as one of the revolutionary steps taken by PM Narendra Modi, Dr. Jitendra Singh said, NEP-2020 supplements Start-Up ecosystem (Start-up India, Stand-up India clarion call given by PM Narendra Modi), promises new careers and entrepreneurship opportunities for students and youth in India.
Dr Jitendra Singh further said, the provision of multiple entry/exit option is something to be cherished as this academic flexibility will have a positive impact on the students related to the availing of different career opportunities at different times, depending upon their intrinsic learning and inherent aptitude.
Saying that one of the objectives of NEP-202 is de-linking degree from education, Dr. Jitendra Singh said that linking degrees with education has taken a heavy toll on our education system and society as well. One of the fall-outs has been an increasing number of educated unemployed.
Referring to the 9 years of Modi government, Dr. Jitendra Singh pointed out that apart from formal jobs, lakhs of opportunities and avenues have been created outside the government sector for the youth of the country, be it Start-up policy, Mudra Scheme, PM SVANidhi etc.
Dr Jitendra Singh said, this is all evident now that with the unlocking of space sector by Prime Minister Shri Narendra Modi in June 2020, the number of Space Start-ups sky-rocketed from merely 04 to 150 and most of them being led by science students, researchers and entrepreneurs.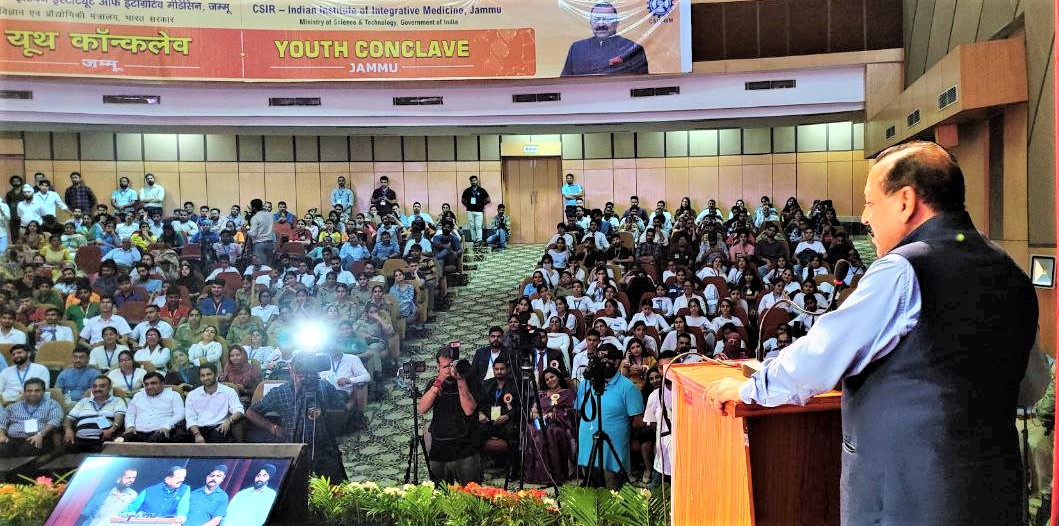 Dr Jitendra Singh further said that there were just around 350 Start-ups before 2014, but after PM Modi gave the clarion call from the ramparts of the Red Fort in his Independence Day address and after rolling out special Start-up scheme in 2016, there has been a quantum jump with over 1.25 lakh Start-ups now with more than 110 Unicorns. Similarly, he added that in the Biotech sector, from 50 odd Start-ups in 2014, we now have 6,000 Biotech Start-ups.
Appreciating CSIR-IIIM for being one of the oldest scientific research institutes in India, Dr. Jitendra Singh said, CSIR-IIIM is the oldest scientific research institute in India with the history of discovering mint way back in 1960s and the centre of purple revolution in India.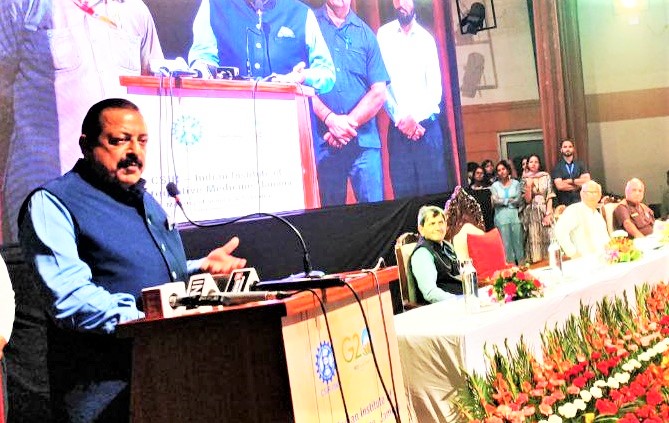 In the welcome address, Dr. Zabeer Ahmad, Director CSIR-IIIM Jammu said, CSIR-IIIM Jammu is endeavoured to promote start-up and entrepreneurship ecosystem in Jammu & Kashmir and this Youth Conclave today is part of this endeavour so that youth of today is informed of the tons of entrepreneurship opportunities provided by the government.
Mayor Jammu, Sh. Rajinder Sharma and DDC Chairman Jammu, Sh. Bharat Bhushan were present in the conclave.