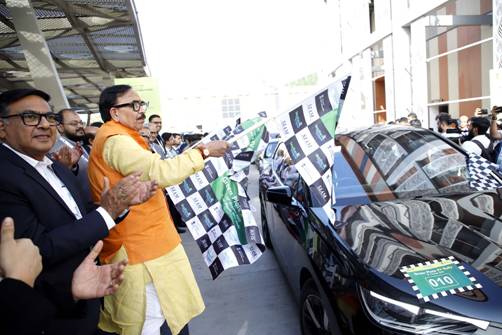 In a resounding and unanimous endorsement of sustainable mobility, the Society of Indian Automobile Manufacturers (SIAM), the apex body representing India's prominent automobile manufacturers, hosted the 'Green Plate EV Rally' at Pragati Maidan . In partnership with the Ministry of Heavy Industries, this event marks a significant stride in promoting eco-friendly transportation and underscores SIAM's unwavering commitment to driving the widespread adoption of electric vehicles across the nation. In the presence of the esteemed Chief Guest, Dr. Mahendra Nath Pandey, Union Minister of Heavy Industries, the "Green Plate EV Rally" was ceremoniously flagged off. The rally showcased an impressive fleet of over 100 electric vehicles, including 2-wheelers, 3-wheelers, cars, and buses. Its central aim was to raise awareness and enhance customer confidence in electric vehicles and to exhibit the capabilities of the Indian automotive industry, which has developed and launched multiple electric vehicles to meet the needs of Indian consumers over the past couple of years.
Shri Kamran Rizvi, Secretary, Ministry of Heavy Industries, Government of India; Dr. Hanif Qureshi, Joint Secretary, Ministry of Heavy Industries, Shri Vinod Aggarwal, President of SIAM and Managing Director & CEO of Volvo Eicher Commercial Vehicles Ltd; Shri Sushant Naik, Chairman, SIAM Electric Mobility Group and Global Head – Government and Public Affairs, Tata Motors Limited; Ms. Suman Mishra, Co-Chairman, SIAM Electric Mobility Group and MD & CEO, Mahindra Last Mile Mobility; Shri Vipin Surana, Co – Chairman, SIAM Electric Mobility Group and Vice President, Volvo Eicher Commercial Vehicles Limited, and Shri Rajesh Menon, Director General, Society of Indian Automobile Manufacturers (SIAM) were present during the ceremony.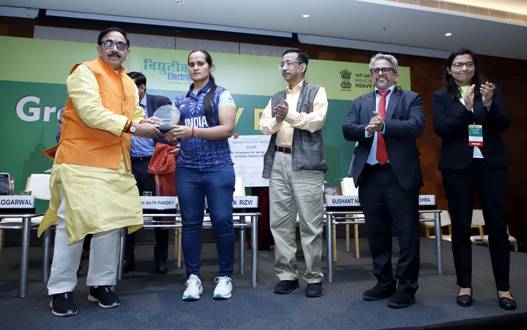 SIAM also felicitated Ms. Priyanka Pilaniya, Vice-Captain of the Indian Women's Kabaddi Team for winning gold medal at the 19th Asian Games 2023 held in Hangzhou, China.
Speaking on the occasion, Dr. Mahendra Nath Pandey said, "Government has provided constant support for the growth of EVs in the country. We can proudly say that 9.4 lakh EVs are now on Indian roads. The outcomes of the PLI scheme in battery development and supporting domestic manufacturing are reducing our dependence on others, and making us self-reliant". He further added that India will become a major battery manufacturing hub in the coming years. We have also found lithium deposits in Jammu and Kashmir, and the government is making efforts to make India competitive in every field without delay. The Minister said, "EVs have grown from 0.13% in 2019-20 to 4.3% now, and SIAM has made significant contributions in leading this change. I extend my congratulations to the team. We must work together to achieve our sustainability objectives and promote the green mobility movement."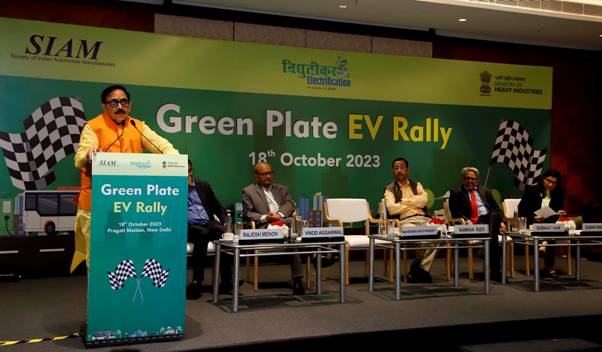 In his address, Shri Kamran Rizvi said, "There is a saying that change is the only constant. Positive changes have made our lives more convenient, and electric vehicles are one of them which are now widely accepted. The Indian automobile industry has supported and facilitated this positive change. EV manufacturing is a technical endeavor, and the ministry has supported the industry with FAME and PLI schemes." He further stated that 12 lakh scooters are expected to be sold this year, which means the public is actively adopting EVs, and we have a long road ahead. By 2030, we anticipate having 60-70% of electric two-wheelers and, in a few years, 70-75% of electric three wheelers. For cars, we aim to sell one lakh cars and double that number. SIAM leadership has worked closely with the government, and as a result, we have been able to initiate many successful endeavors for sustainable mobility, he added.
Shri Vinod Aggarwal, President of SIAM and Managing Director & CEO of Volvo Eicher Commercial Vehicles Ltd in his address said that over the last couple of years, the Indian automobile industry has made significant progress towards sustainability to meet the decarbonization targets set by the Indian government. The country has made rapid strides, supported by proactive actions. He mentioned that India's transition to e-mobility is well underway, and as the economy continues to grow, electric vehicle adoption will also increase. Strong support is needed in terms of policy and infrastructure. Under our (Electrification) initiative, SIAM remains dedicated to address industry's issues in close collaboration with all stakeholders across the value chain.
Congratulating SIAM for taking up such initiatives, Dr. Hanif Qureshi, Joint Secretary, Ministry of Heavy Industries said, "The rally is a great initiative to spread awareness on EVs which is key to meet electrification goals. Government has supported electric vehicles adoption and the industry has to play its part and make efforts along with the government. At present, Europe, the US, and China have more EV sales, and India has to come on par with them."
The participating companies of the rally were also felicitated during the event which marked the presence of a host of senior experts and dignitaries from the automobile industry.
The Society of Indian Automobile Manufacturers (SIAM) is an apex national body representing major vehicle and vehicular engine manufacturers in India. It is a society with charitable objectives registered under the Societies Registration Act 1860. Its objectives include enhancing the contribution of the automobile industry in the growth and development of the Indian economy, assisting the automobile industry in meeting its social obligation, encouraging the efficiency of the industry in general, particularly in India, and improving and protecting the environment, including global warming, pollution control and safety of automobile vehicle users and public at large. Recognizing these objectives, SIAM has been granted registration under the Income Tax Act 1961 as an institution with a charitable purpose.