Minister of Rural Development and Panchayati Raj Shri Giriraj Singh briefed the media on "9 Years' achievements of Rural Development" in a press conference at New Delhi today. In his address, Shri Giriraj Singh said that his department is striving hard for achieving the motto of Seva, Sushasan and Garib Kalyan under the guidance of Prime Minister Shri Narendra Modi. The minister underlined that there is no deficit of funds under Mahatma Gandhi National Rural employment guarantee scheme (MGNREGS). He informed that Finance ministry has been approached for additional funds under the scheme and it will be sanctioned soon. Shri Singh also said that his ministry is trying hard to achieve the goal of 2 crore Lakhpati Didis by this yearend itself. The scheme was announced by Prime minister Narendra Modi in his Independence Day address this year. The Minister also launched brochures on 9 Years' achievement of the Ministry in order to showcase these achievements and reach out to the common man. The brochures will be helpful to provide information to the citizens to know about the schemes under Ministry of Rural Development (MoRD) and progress made under them over the years.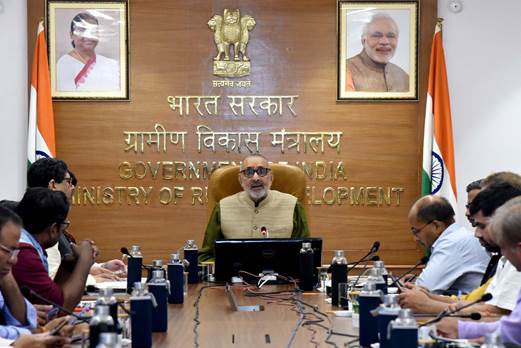 Shri. Singh while providing details on various schemes, said that in the past 9 years, Ministry of Rural Development has made great strides in the implementation of various welfare schemes for transforming the lives of rural poor.
Under DAY-NRLM (Deendayal Antyodaya Yojna-National Rural Livelihoods Mission) since 2014, a total of 7.33 crore women have been mobilized into SHGs. Amount of loan disbursed to SHGs by banks is more than 7.22 Lakh crore. It is praiseworthy that percentage of Non Performing Assets (NPA) have come down to 1.88% since 2014.
Now DoRD target is to reach 10 crore SHGs didis till December, 2023 and make at least 2 crore didis as lakhpati didis .
Under PMAY-G ( Pradhan Mantri Awas Yojana- Gramin), in last 9 years, 3.21 crore houses in rural areas have been completed by the Department. A total assistance of 2.48 lakh crore was provided for house construction to the beneficiaries, in these last 9 years.
Under PMGSY ( Pradhan Mantri Gram Sadak Yojana), a total of 7.44 lakh Kms road length have been completed and more than 1.62 lakh rural habitations have been connected through all weather roads.
Under NREGA, a total of 2,644 crore person days have been generated during the last 9 years and more than 6.63 lakh crore have been released as central share. As a water storage initiative in rural areas, more than 67,000 'Amrit Sarvoar' have been constructed.
Ministry of Rural Development has been given the mandate to undertake interventions for integrated and sustainable rural development. Being the nodal Ministry for most of the development and welfare activities in the rural areas, the Ministry of Rural Development plays a pivotal role in the overall development strategy of the country. The vision and mission of the Ministry is sustainable and inclusive growth of rural India through a multipronged strategy for eradication of poverty by increasing livelihood opportunities, providing social safety net and developing infrastructure for growth.